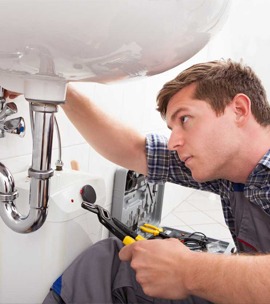 Plumbing Emergency?
Superheroes Plumbing & Rooter specializes in a fast and comprehensive response to any plumbing emergency. 24/7 we'll get the job done fast and get it done right.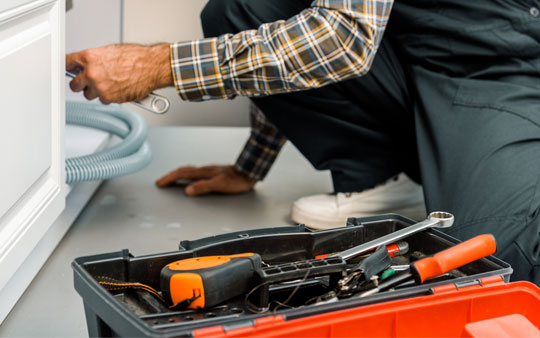 Residential Plumbing
Superheroes Plumbing will rescue you from any home plumbing problem up to (and including) the kitchen sink.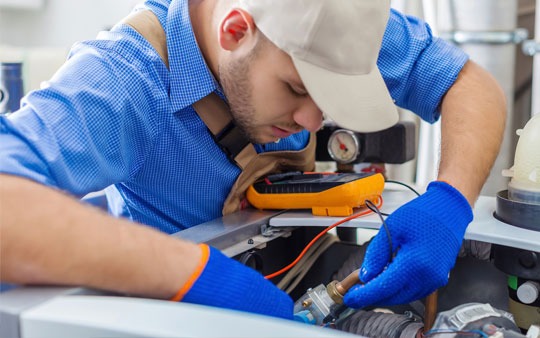 Commercial Plumbing
A plumbing emergency can literally be money down the drain. We'll get you back up and running ASAP.
Plumbing Services
Drain Cleaning
Leak Detection & Repair
Water Heater Repair
Repipe
Sump Pumps
Sewer Lines
Plumbing Fixtures
Gas Lines
Plumbing Water Damage
From showers choked by dirt and hair to blocked toilets, Superheroes Plumbing has the right equipment to clean every clogged drain (including the kitchen sink). If you have standing or slow draining water in your tub or sink, or a toilet in need of frequent plunging, our plumbers will clear it right the first time, saving you from flooding and water damage before it happens.
Read More >>
Did your water bill recently spike? Is your water pressure low? Are your walls or ceiling discolored? You may have a plumbing leak. Whether it's under the sink, from a faucet or other plumbing fixtures or pipes hidden from view, our highly-trained leak detection specialists have the tools to find and repair plumbing leaks that waste both water and money. Don't waste time too. Call Superheroes Plumbing & Rooter today.
Read More >>
Sure, a cold shower can be invigorating. But the temperature of the water streaming from your shower head should be your choice, rather than the byproduct of a busted water heater. One call to Superheroes Plumbing & Rooter, anytime, 24/7, and our plumbers will repair or replace your water heater to get the hot water flowing through your pipes again.
Read More >>
Whether it's a water leak, rusty or discolored water or simply age, when it's time to replace your pipes, Superheroes Plumbing & Rooter are the right (super)men for the job. From initial inspection, to installation of new copper or PEX pipes, to performance testing and cleanup, you're in good hands with our licensed and experienced team of plumbers.
Read More >>
One of your first and best lines of defense against basement and crawl space flooding is a sump pump. Heavy rain storms are an infrequent concern for homeowners living in the parched Los Angeles area. But the worst time to discover a sump pump malfunction is while the rain is falling from the sky. Our plumbers can inspect, test and perform maintenance on your sump pump to ensure it handles the job heroically before the next big storm.
Read More >>
Slow draining water may be more than just a clogged drain. It may be one symptom of a bigger problem with your sewer line. As soon as you suspect there's a problem, call Superheroes Plumbing & Rooter right away. Our experienced team of plumbers are available 24/7 with the skills and specialized technology to help keep you from being knee deep in you know what.
Read More >>
Time to replace your faucet, sink, shower or toilet? Ready to upgrade to the latest in energy efficient fixtures? If you'd rather DIE than DYI, call Superheroes Plumbing & Rooter and let us handle the installation. Our plumbers can make recommendations or simply install and test your chosen fixtures to help your kitchen or bathroom look and feel like new.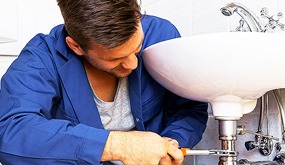 Sinks & Faucets
Toilets
Showers & Bathtubs
Water Filtration & Softeners
Gas line leaks can be very dangerous and repairs to broken gas pipes should only be made by a qualified professional. If you notice any signs of a gas leak, call Superheroes Plumbing & Rooter right away. Our experienced technicians are available 24/7 to thoroughly inspect and detect the source of the gas leak and provide both repair and replacement options.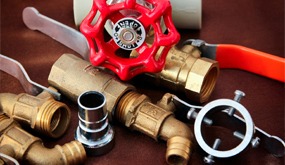 Safety Inspection
Cleaning & Maintenance
Gas Leak Detection
Pipe Repair & Replace
Earthquake Shutoff Values
Once our plumbers fix the leak or clogged drain that caused it, water damage from a plumbing problem should also be inspected and repaired. Superheroes Plumbing & Rooter has partnered with one of the most skilled and experienced local water damage restoration companies in the Los Angeles area, SERVPRO of North Hollywood, to provide comprehensive plumbing water damage service.
Read More >>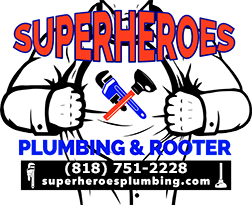 24/7 Plumbing Service in Los Angeles
Clogged drain? Water leak? Pipe burst? Our plumbers save the day!
(818) 751-2228 OR Contact Us
Why Choose Us?
24/7 Availability
We specialize in providing the fastest response to emergency plumbing problems, 24/7, day or night. No phone booth required.

Experienced Plumbers
With years of hands-on experience, our team has the skills to handle the toughest plumbing problems. You might even call them super powers.

Fully Licensed
Superheroes may not need a license to fight crime. But to fight grime? Hey, it's a dirty job and we have the licenses and certifications to do it.

Satisfaction Guaranteed
We'll do the job fast. And we'll do the job right. We promise. We'll even Superhero pinky promise (if superheroes do that sort of thing).
Contact Us
Address

12023 Vose St, Unit 17, North Hollywood, CA 91605

Email

Service Area

We service homes and businesses throughout the Los Angeles area, 24 hours a day, 7 days a week.